Custodiale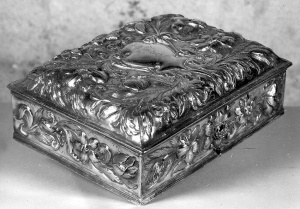 Etymologie
Latijnse woord custodia, « actie te houden », « behoud » (Gaffiot, p. 459).
Definitie
Metalen doos, gewoonlijk rond van vorm, waarin de geconsacreerde hostie en de lunula worden bewaard wanneer ze niet in de monstrans zijn uitgestald.
Hierarchie
Typologie
Het doosje is vaak rond, met bovenop een deksel versierd met een kruis. Het kan soms verward worden met een custode.
Andere benamingen
Autres langues
FR
boîte à lunule
EN
lunette box
DE
Dose für Lunula
IT
scatola porta lunula
ES
teca eucharistica, caja a lúnula
BALaT
De custodiale (1400-1700) in BALaT
Afbeelding van custodiale (1400-1700) in BALaT
De custodiale in de bibliotheek van het KIK
Bibliografische orientatie
Joël Perrin & Sandra Vasco Rocca (dir.), Thesaurus des objets religieux. Meubles, objets, linges, vêtements et instruments de musique du culte catholique romain. Religions objects of the Catholico Faith. Corredo ecclesiastico di culto cattolico, Paris, Caisse nationale des Monuments historiques, éditions du Patrimoine, 1999, p. 146.