Boîte à lunule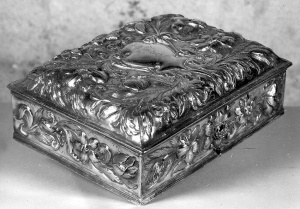 Étymologie
Lunule : < latin lunula, diminutif de luna, « lune », signifiant « petit croissant » (Gaffiot, p. 927).
Définition
Boîte en métal, généralement de forme circulaire, contenant l'hostie consacrée et la lunule lorsqu'elles ne sont pas exposées dans l'ostensoir.
Hiérarchie
Typologie
La boîte est souvent circulaire, surmontée d'un couvercle orné d'une croix. Elle peut parfois se confondre avec une custode.
Autres dénominations
custode d'ostensoir
Autres langues
NL
custodiale
EN
lunette box
DE
Dose für Lunula
IT
scatola porta lunula
ES
teca eucharistica, caja a lúnula
BALaT
Les boîtes à lunule (1400-1700) dans BALaT - Photothèque
Représentations de boîtes à lunule (1400-1700) dans BALaT - Photothèque
Les boîtes à lunule dans BALaT - Bibliothèque
Bibliographie
Joël Perrin & Sandra Vasco Rocca (dir.), Thesaurus des objets religieux. Meubles, objets, linges, vêtements et instruments de musique du culte catholique romain. Religions objects of the Catholico Faith. Corredo ecclesiastico di culto cattolico, Paris, Caisse nationale des Monuments historiques, éditions du Patrimoine, 1999, p. 146.