Koorlessenaar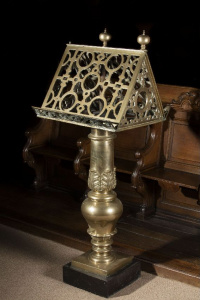 Etymologie
Lessenaar : < les naar het voorbeeld van middeleeuws latijn lectionarium.
Definitie
Grote lessenaar op standaard geplaatst in het koor en gebruikt voor zangers of voor het lezen van heilige teksten.
Hierarchie
Oorsprong en ontwikkeling
De lessenaar werd al in de 7de eeuw gebruikt (Duret, p. 129), maar de overgebleven voorbeelden gaan niet verder terug dan de 12de eeuw.
Typologie
De lessenaars zijn meestal van messing, soms van hout. Sommige lessenaars zijn dubbelzijdig en bestaan uit twee schuine planken. Dit type dubbele lessenaar kan op een scharnierpunt draaien en voorzien zijn van een schroef om de hoogte van de legplanken aan te passen. De bovenkant van de lessenaar kan versierd zijn met een uitgewerkt kuifje, bolletjes of tolletjes, waaraan veters met een loden balletje aan het uiteinde werden bevestigd, die als bladwijzer fungeerden en het omslaan van de bladzijden verhinderden.
Andere benamingen
Autres langues
FR
lutrin de choeur
EN
choir lectern
DE
Chorpult
IT
leggio del coro, badolone (lutrin tournant)
ES
atril del coro
BALaT
De koorlessenaren (1400-1700) in BALaT
Afbeelding van koorlessenaren (1400-1700) in BALaT
De koorlessenaren in de bibliotheek van het KIK
Bibliografische orientatie
D. Duret (abbé), Mobilier, vases, objets et vêtements liturgiques. Étude historique, Paris, Letouzey & Ané, 1932, p. 129, 197, 293.
Joël Perrin & Sandra Vasco Rocca (dir.), Thesaurus des objets religieux. Meubles, objets, linges, vêtements et instruments de musique du culte catholique romain. Religions objects of the Catholico Faith. Corredo ecclesiastico di culto cattolico, Paris, Caisse nationale des Monuments historiques, éditions du Patrimoine, 1999, p. 67.