Arend-lessenaar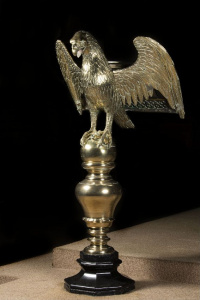 Etymologie
Lessenaar : < les naar het voorbeeld van middeleeuws latijn lectionarium.
Definitie
Koorlessenaar waarvan de tablet wordt ondersteund door een adelaar.
Hierarchie
Oorsprong en ontwikkeling
Aangezien een adelaar naar verluidt recht in de zon kan kijken, kan hij symbolisch God en Diens woord aankijken. Ook is de adelaar het symbool van de evangelist Johannes en van Christus zelf, door analogie tussen de vlucht van de adelaar en de Hemelvaart.
Het afbeelden van adelaars op lezenaars of ambo's is al een oud gebruik (soms samen met afbeeldingen van de symbolen van de andere evangelisten). De arendlezenaar breekt door in de loop van de 14de en de 15de eeuw, in het bijzonder in de voormalige Nederlanden. Vaak worden ze vervaardigd uit messing.
Typologie
De adelaar wordt op de lezenaar afgebeeld. Zijn vleugels en rug dragen de eigenlijke lezenaar. Vaak zitten de klauwen van de adelaar op een bol, die op zijn beurt op een van lijstwerk voorziene schacht is geplaatst. De sokkel is soms geplaatst op poten in de vorm van leeuwen of leeuwenpoten.
Andere benamingen
Autres langues
FR
aigle-lutrin
EN
eagle lectern
DE
Adlerpult
IT
aquila leggio
ES
atril de águila
BALaT
De arend-lessenaars (1400-1700) in BALaT
Afbeelding van arend-lessenaars (1400-1700) in BALaT
De arend-lessenaars in de bibliotheek van het KIK
Topstuk met 3D-animatie