Tuniek (liturgie)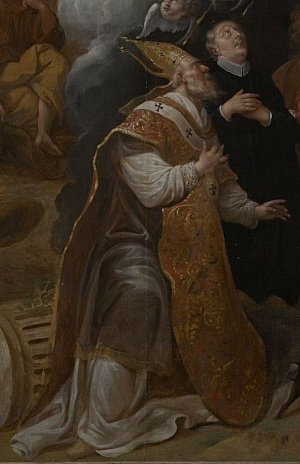 Etymologie
< Latijns tunica, « tunique » (Gaffiot, p. 1612).
Definitie
Meestal kort en van mouwen voorzien liturgisch gewaad, dat over de albe werd gedragen door subdiakens en tussen de albe en het kazuifel door bisschoppen tijdens de eucharistieviering. Lijkt erg op de dalmatiek
Hierarchie
Typologie
De tuniek lijkt erg op de dalmatische. La tunique du sous-diacre devait ressembler à la dalmatique du diacre, mais les manches en étaient plus courtes et l'ornementation moins riche (De tuniek van de subdiaken moet op de dalmatiek van de diaken geleken hebben, maar de mouwen waren korter en de versiering minder rijk) (Duret, p. 267).
Normatieve teksten
Caeremoniale Episcoporum,1600, p. 42. Volgens de tekst draagt een onderdiaken dezelfde liturgische gewaden als een diaken, op de stola na. Bovendien krijgt hij boven de albe een tuniek met dezelfde vorm als de dalmatiek van een diaken, maar minder strikt en met langere mouwen.
"accipiet paramenta sibi convenientia, quae eadem fere sunt, quae superius Diacono conveniunt, excepta stola, qua Subdiaconus non utitur; accipiet autem super alba tunicellam, quae eiusdem formae est, cuius est dalmatica Diaconi, nisi quod strictiores, longioresque aliquantulum manicas habet"
Andere benamingen
Autres langues
FR
tunique liturgique
EN
tunicle
DE
liturgische Tunika
IT
tunica
ES
túnica litúrgica
BALaT
De tunieken (liturgie) (1400-1700) in BALaT
Afbeelding van tunieken (liturgie) (1400-1700) in BALaT
De tunieken (liturgie) in de bibliotheek van het KIK
Bibliografische orientatie
Fil de soie, chemin de soie, tent. cat., Chambord, Château de Chambord, 1983, p. 45.
D. Duret (abbé), Mobilier, vases, objets et vêtements liturgiques. Étude historique, Paris, Letouzey & Ané, 1932, p.267.
Joël Perrin & Sandra Vasco Rocca (dir.), Thesaurus des objets religieux. Meubles, objets, linges, vêtements et instruments de musique du culte catholique romain. Religions objects of the Catholico Faith. Corredo ecclesiastico di culto cattolico, Paris, Caisse nationale des Monuments historiques, éditions du Patrimoine, 1999, p. 318.