Communielepel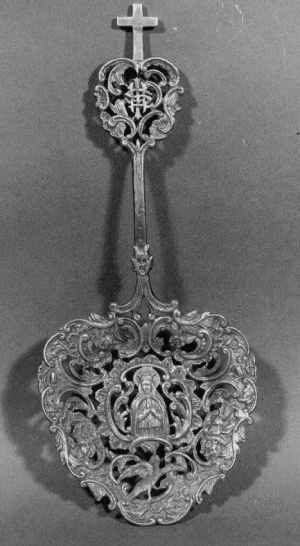 Etymologie
Definitie
Lepeltje uit verguld zilver, gebruikt om de in miswijn gedrenkte geconsacreerde hosties uit te delen (Gloss. Artis, 2, p. 54).
Hierarchie
Andere benamingen
Autres langues
FR
cuiller eucharistique
EN
eucharistic spoon
DE
eucharistischer Löffel
IT
cucchiaio eucaristico
ES
cuchara eucarística
BALaT
De communielepels (1400-1700) in BALaT
Afbeelding van communielepels (1400-1700) in BALaT
De communielepels in de bibliotheek van het KIK
Bibliografische orientatie
Glossarium Artis, Faszikel 2, Liturgische geräte, Kreuze une Reliquiare der Christlichen Kirchen - Objets liturgiques, croix et reliquaires des églises chrétiennes, Dokumentationsstelle Tûbingen, Tübingen-Strasbourg, 1972, p. 54.
Joël Perrin & Sandra Vasco Rocca (dir.), Thesaurus des objets religieux. Meubles, objets, linges, vêtements et instruments de musique du culte catholique romain. Religions objects of the Catholico Faith. Corredo ecclesiastico di culto cattolico, Paris, Caisse nationale des Monuments historiques, éditions du Patrimoine, 1999, p. 157.