Cingel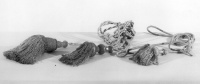 Etymologie
< Latijns cingulum, « priesterriem » (Heilige Hieronymus, epistulae, door Gaffiot geciteerd, p. 307).
Definitie
Spiraalvormige ceintuur, meestal in wit katoen, bedoeld om de plooien van de albe bijeen te houden.
Hierarchie
Oorsprong en ontwikkeling
Al heel vroeg in de geschiedenis signaleren de ordines dat de albe ter hoogte van het middel moet worden vastgemaakt met een cingel, ongetwijfeld al sinds de 9de eeuw (Hraban Maur, Walafried Strabo) of zelfs nog veel vroeger, maar andere teksten tonen aan dat het geen systematisch gebruik was.
Typologie
Het liturgische cingel is tussen de 2,5 en 3 meter lang. Het kan wit of gekleurd zijn. Hoewel het tegenwoordig vaak van katoen wordt gemaakt, kan het ook van linnen, zijde of zelfs leer zijn. In de Karolingische periode kon het met juwelen versierd worden, daarna raakte het gebruik van kostbare gordels in onbruik en werden ze voorbehouden aan bisschoppen.
Andere benamingen
Autres langues
FR
cordon liturgique
EN
cincture
DE
Cingulum
IT
cingolo di camice
ES
cíngulo
BALaT
Afbeelding van cingels in BALaT
De cingels in de bibliotheek van het KIK
Nota bene : De fototheek van het KIK toont geen voorbeelden van dit type object uit de periode 1400-1700. Wel zijn er religieuze riemen, zoals die van de heilige Waudru (612-686/88), uit de 14e-15e eeuw. (objet IRPA 10142801 et objet IRPA 10142803.
Bibliografische orientatie
Joseph Braun, Die liturgischen Paramente in Gegenwart und Vergangenheit. Ein Handbuch der Paramentik, Herder & Co, Fribourg-en-Brisgau, 1924, p. 74-81.
D. Duret (abbé), Mobilier, vases, objets et vêtements liturgiques. Étude historique, Paris, Letouzey & Ané, 1932, p. 90, 161, 261.
Fil de soie, chemin de soie, tentoonstellingscatalogus, Chambord, Château de Chambord, 1983, p. 45-46.
Joël Perrin & Sandra Vasco Rocca (dir.), Thesaurus des objets religieux. Meubles, objets, linges, vêtements et instruments de musique du culte catholique romain. Religions objects of the Catholico Faith. Corredo ecclesiastico di culto cattolico, Paris, Caisse nationale des Monuments historiques, éditions du Patrimoine, 1999, p. 328.