Altaarsierstuk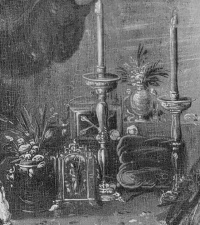 Etymologie
Altaar: < Latijn altare, "altaar (Christelijk) "
Definitie
Geheel van voorwerpen, vaak zonder liturgische functie, die dienen om de altaartafel te versieren.
Hierarchie
Normatieve teksten
Caeremoniale episcoporum, p. 56
Quae quidem sacrae Reliquae, & imagines, cum sex tantum candelabra super altari erunt, disponi porterunt alternatim inter ipsa candelabra, si modo ipsa altaris dispositio, & longitudo id patitur; sed & vascula cum flosculis, frondibusque odoriferis, seu serico contextis studiose ornata adhiberi poterunt.
Andere benamingen
Autres langues
FR
ornement d'autel
EN
altar ornament
DE
Altarverzierung
IT
decorazione d'altare
ES
adorno del altar
BALaT
De altaarsierstukken (1400-1700) in BALaT
Afbeelding van altaarsierstukken (1400-1700) in BALaT
De altaarsierstukken in de bibliotheek van het KIK
Bibliografische orientatie
Joël Perrin & Sandra Vasco Rocca (dir.), Thesaurus des objets religieux. Meubles, objets, linges, vêtements et instruments de musique du culte catholique romain. Religions objects of the Catholico Faith. Corredo ecclesiastico di culto cattolico, Paris, Caisse nationale des Monuments historiques, éditions du Patrimoine, 1999, p. 144.